Helping you acclimate to the changing face of financial services
SimbaNET for BFSI Sector
SimbaManage is a combination of our Managed Services offerings; aims at proactively managing our client's IT & Network functions. Applying strategic approach to enhance efficiency & optimize cost of operations.
The African financial community is experiencing several regulatory and technological changes while these organizations are continuously under the stress of increasing revenues and decreasing operational costs. In this environment, fully-managed products and services, coupled with industry knowledge and reach, can keep businesses connected and enable them to realize new business opportunities.
At SimbaNET, we have built our expertise in constant coordination with the largest financial institutions in the region.
SimbaNET supports 75% of the banks in the region
Facilitating Financial services by directly connecting through our Tier 1 IP Transit and IPLC links to trade in international markets with minimum delays
Enabling secure and clean traffic for the financial sector by deploying security platforms like DDoS mitigation, Virtual Unified Threat Management and SOC as a Service In addition, we have constantly evolved by introducing new solutions for the sector such as Virtual Contact Centers, Private Cloud, Managed WIFI etc.; These solutions will not only help bringing down the operational costs but will also help in enhancing customer experience
SimbaNET aligning with the BFSI architecture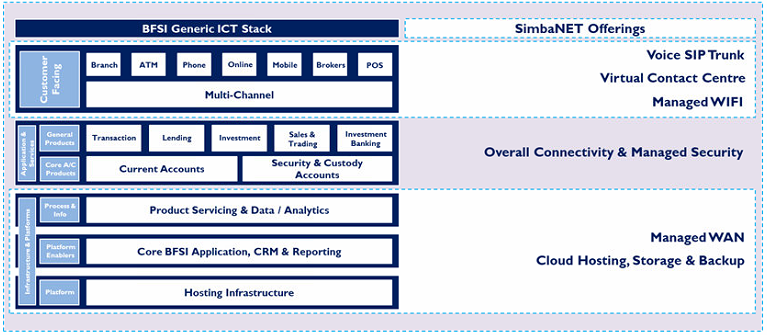 Key Solutions for BFSI