Internet is meaningless, unless its seamless and secure
SimbaSurf
SimbaSurf is our dedicated Internet service using either Fiber, WIMAX or VSAT last miles depending up on available infrastructure at our client's premise(s).
We offer high-quality, worldwide access to the Internet and includes added value, such as managed CPE, IP address and domain name registration, Security, DNS services, and back-up as well as reporting and service level agreements.
High performance connectivity with unlimited bandwidth
Capacity available on demand
Low Latency
Extremely reliable and "future proof"
Business can run multiple applications, VOIP, Video & Data
Increased enablement of employee productivity
International access via submarine fibre backhaul to Tier-1 POPs in Europe & Asia translates into faster & optimized speeds
SimbaNET's services are supported by a stringent SLA ensuring maximum uptime
24x7 support and network monitoring
High availability services as we directly interconnected to multiple undersea cables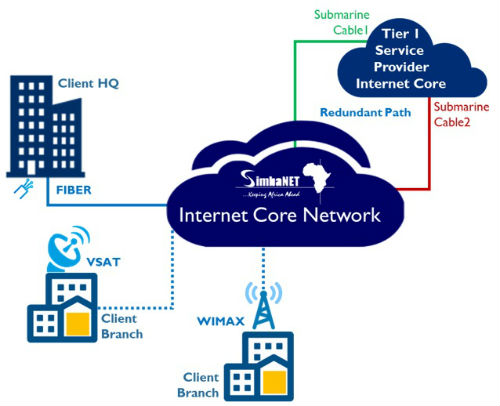 SimbaNET Surf Service Options
SimbaSurf Service Options ensures optimal bandwidth usage & huge cost savings on Internet & security hardware.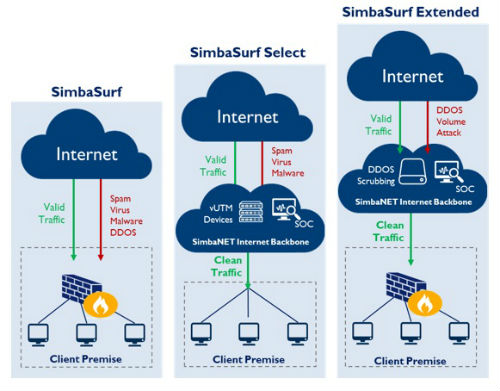 Internet Clean Pipe
True Tier-1 Global Internet Service
End-to-End Management approach
A network based all-in one Security solution that cleans the Internet traffic before entering the client's premise
A full featured Unified Threat Management device which includes anti-virus, anti-spam, anti-spyware, Intrusion prevention and web filtering capabilities
Protection from volumetric DDOS attack
Extensive Global Peering relationship
Multiple submarine cable systems for route-level redundancy
Upto 99.99% network uptime, near zero latency and packet drop
| Service Features | SimbaSurf | SimbaSurf Select | SimbaSurf Extended |
| --- | --- | --- | --- |
| Distinct Criteria | Internet | Internet+ vUTM | Internet + DDOS |
| High Speed Dedicated Internet | ✔ | ✔ | ✔ |
| 24x7 NOC Monitoring | ✔ | ✔ | ✔ |
| 24x7 Support | ✔ | ✔ | ✔ |
| Account Manager | ✔ | ✔ | ✔ |
| Managed Model | (Optional) | ✔ | ✔ |
| Virtual Firewall | ✕ | ✔ | ✕ |
| Intrusion Prevention Service | ✕ | ✔ | ✕ |
| SSL (Secure Socket Layer) | ✕ | ✔ | ✕ |
| VPN (Virtual Private Network) | ✕ | ✔ | ✕ |
| Web Filtering | ✕ | ✔ | ✕ |
| Proxy Gateway | ✕ | ✔ | ✕ |
| Protection from Volume Attacks (DDoS) | ✕ | ✕ | ✔ |